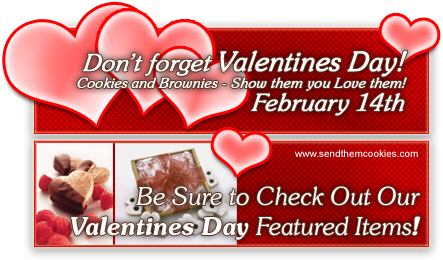 Gifts
Give Pure Joy.
Sweet gifts for any occasion.
---
Featured Products
---



Valentine Brownies Hearts
Our rich fudge brownies cut into hearts for that special valentine.
16 chocolate hearts.

---



Large Box of Chocolate Dipped Linzer Heart Cookies
Heart Shaped Buttery Cookies. Each Cookie Contains Two Bites of LOVE! They're Filled With Raspberry Preserves And Dipped In Rich Dark Chocolate.

---



Valentine's Day Special
Valentine's Linzer Hearts & Brownie Hearts in our special red tin for that special valentine.

---



Elegant Linzer Heart Cookie Crate
Elegant linzer Heart Cookie Crate 42 Elegant raspberry linzer heart cookies dusted with powdered sugar in a classic wood gift crate.

---



Chocolate Dipped Linzer Heart Cookies
20 Heart shaped cookies dipped in rich chocolate

---
Page 1